Karen (karey2005)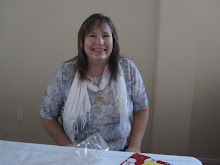 On Blogger since May 2011
Profile views - 5924
My blogs
Blogs I follow
About me

Gender
Female
Industry

Education

Occupation

Finance, IT and HR Manager

Location

Woodland,

CA,

United States

Interests

Scrapbooking, cardmaking, any other papercraft, reading, boating, family

Favorite Movies

Pretty Woman

Favorite Music

Country (like Sugarland, Garth, Martina, and Rascal Flatts), Pop (like Lady Gaga, Adele and Gwen Stefani)

Favorite Books

Some of my favorite authors are Lisa Gardner, Mary Higgins Clark, Lisa Jackson, and Janet Evanovich. Since I got a Kindle, I find all sorts of wonderful free (or very cheap books) as well.
All of the phone numbers have fallen out of your address book. Whose number do you look for first and why?
Ha! I memorize phone numbers - have hundreds of them in my head. Once I dial a number once or twice, I don't have to look for it again! For example, I have the phone number to a Straw Hat that was in my community 30 years ago and closed. I also still know my best friend's phone number from when I was six. She moved to Texas!