Malach the Merciless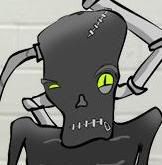 Contact me
On Blogger since April 2005
Profile views - 45028
My blogs
Blogs I follow
About me

Gender
MALE
Industry

Arts

Occupation

Artist

Location

Elysium,

Pandemonium

Introduction
Malach is brought to you through the Powers of the SPACE POPE!
Interests

Subjigating the Masses, Smoozing with the Underworld, Gardening, Harassing people on the World Wide Web

Favorite Movies

New Bedford Ma.

Favorite Music

Banging pails

Favorite Books

The ones with big pictures.
What reason do you have to believe the earth is flat?
Sometimes you drink milk, sometimes milk drinks you