Wimsey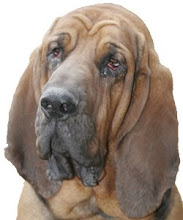 Contact me
On Blogger since February 2007
Profile views - 2509
My blogs
Blogs I follow
About me

Gender
Male
Industry

Arts

Occupation

Writer, model

Location

New York,

New York

Introduction
I am an enormous, drooly and altogether delightful bloodhound who lives on the Upper West Side of Manhattan. I have written a children's guide book to New York City and will be in an upcoming documentary film on urban pets and have been shown at the Westminster Kennel Club Dog Show.
Interests

Writing my blog, towing humans through Central Park, greeting tourists, wrestling humans and dogs, stealing water bottles, singing, ripping up chair cushions, sitting in laps, two handed belly rubs, trying to sneak into New York's 20th police precinct.

Favorite Movies

"Best in Show" but only the parts about Hubert the bloodhound, "Lady and the Tramp."

Favorite Music

Anything by the Bloodhound Gang, "You Ain't Nothin' but a Hound Dog, " and of course the music I create with my mellifluous baying.

Favorite Books

"A Brace of Bloodhounds, ""House on Bloodhound Lane, "Ten Little Bloodhounds."