Andrea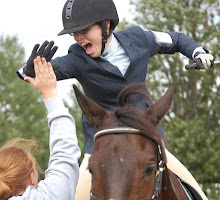 Contact me
On Blogger since November 2008
Profile views - 16828
My blogs
Blogs I follow
About me

Gender
Female
Occupation

Barn Manager

Location

Weatherford,

TX,

United States

Introduction
For as long as I can remember, my life has revolved around horses. I've been riding since the age of 7, and doing dressage and eventing since the age of 15. My first gelding was a little black Trakehner named Quincy who had had EPM at some point; he was the best friend an emotional teenager could have ever wanted. He died of a horrible colic in 2004. My second gelding was a dark bay clunker of a Trakehner named Metro; he was the best schoolmaster and friend I ever could have asked for, and he trucked my butt around my first real x-country courses, and brought me my first really fancy ribbons. Due to a whole slew of problems, we euthanized him in 2006. My third horse was the quirky and opinionated Gogo, my first youngster and my first mare. She taught me endless amounts of patience, the importance of praise and soft hands, how to graciously accept mass amounts of blue ribbons one moment and how to graciously accept a dose of humble butt-whooped pie the next. After a long and downhill rehab for compounded leg injuries, we let her go in October of 2011. What's next for me? Follow along and find out!
Interests

Eventing, skiing, dressage, painting, photography, hiking, travel.

Favorite Movies

Pretty much the only thing I'll ever watch are computer animated kid movies.

Favorite Music

Indie-alternative. Sufjan Stevens, The Postal Service, Death Cab for Cutie, Stars, Passion Pit, Local Natives... the list goes on forever.

Favorite Books

Pride Predjudice and Zombies.
If your whole body were a hot air balloon, would you stop eating spicy food?
Nah. Spicy food gives me the farts so I would be assured of perpetual jet-propulsion.