troylloyd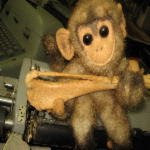 On Blogger since January 2008
Profile views - 9421
My blogs
About me

Location

atatlantata,

geoeorgia, usa

Interests

dada, app-ropriation, valpolicella, fluxus, finnegans wake, lettrism, chance, poetics, text, textless, collage, assemblage, xerox, linguistics, semiotics, french theory, typewriters, copy art, conceptual, micropress, bookmaking, book arts, concrete poetry, vispo, svensk språk, pkd, found objects, international avant, fragments, translation, comix, poetics, detournement, cola madness, googpoom, polyglossia, wordplay, samzidat, parole in libertà, halfzware shag, fluffy clouds, oulipo, typography, glottogony, dårdikter, langpo, fort thunder, letraset, rubbings, glue, missspellings, deculturation, etymology, patina, handwriting, junkstores, visible language, writing under erasure, literary criticism, coffee, the radical south, hillbilly mysticism, junkyards, gnosticism, wreading, klippoklistra, mimeo, brutwerk, comment boxes, ghost machines, refusnik, bugs bunny, the eternal droning nightskullhum

Favorite Movies

opening my notbook, i began reading about the economies of representation : it required no reading because dirt of earth is wordless. [spatial placings] held to a holding : release. pegleg or popeye, whose boop to heckle and jeckle. such fun a funeral; the death of everything we love shall be a beautifull thing. insuch unfun a furnace: burning to blaze pages pasted upon pages. my notbook denotes no notes : "There is no doubt whatever that even when all verbal context is absent, the silent reading of a picture is achieved for one part through the agency of a conscious or unconscious translation into verbal language.Thus, the linguistic code of the reader may inflect the interpretation of purely iconical (visual) material." ~vive la vitalite de vitte! moderne papier. i googled up dispendiosamente and larkin came with infatti, hanno mólto. how to quote never knowing context, i dropped my i and tittle top dropped to fullstop. especialmente gráfica straight thru eyes unlidded by pillow. other dictionaries describe time as ticking. zero hundred hours. 00:00

Favorite Music

lightning bolt, jliat, boredoms, vibracathedral orchestra, stars of the lid, tony conrad, fred anderson, faust, cosmic jokers, prince buster, jessamine, melted men, foot village, peter brötzmann, tom cora, shaking ray levis, dairy queen empire, dead c, skullflower, tall dwarfs, feedtime, spacemen 3, paste, john coltrane, rafael toral, marion brown, angus maclise, big boys, pugh rogefeldt, the trashmen, beatnik filmstars, evol intent, dewey redman, magnog, organisation, guru guru, discharge, the apemen, gauze, operation ivy, pvc precinct, group 1850, pärson sound, terry riley, ken vandermark, the fall, space needle, crass, pharoah sanders, esplendor geometrico, nurse with wound, hampton grease band, jad fair, muslimgauze, syd barrett, borbetomagus, masonna, angels of epistemology, crimpshrine, royal trux, king tubby, skinpops, rashied ali, red krayola, velvet underground, the tape beatles, ono plastic band, mindflayer, supersilent, nervous norvus, demon system 13, lkj, funkadelic, animal collective, birchville cat motel, frank lowe, delroy wilson, howlin' wolf, sunburned hand of the man, ween, wire, john lee hooker, 91.1 WREK

Favorite Books

What? Never heard of such a thing as literal meaning, sensus literalis, put into construal of an invisible idea outside any assigned value. In its comprehensibility it obliterates the difference of embodied things.In the wordness of words, their husk of usefulness only aids the materialism of the way things are. The detail, the detail, the detail.Degree by degree undefining itself : perish perished perishable.Writ in the official font of wellordered settings imprinted indepth by press, the binding of leaves fell from deformulations of nature : this nature of naturalization so unnatural.