Oscar Grillo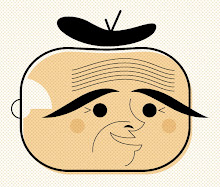 On Blogger since October 2005
Profile views - 49882
My blogs
Blogs I follow
About me

Industry

Arts

Occupation

Illustrator and Animator

Location

London,

United Kingdom

Introduction
I've been working professionally as an artist since 1960. My avatar has been drawn by Matt Cruickshank.
Favorite Movies

"Vertigo", "The Thief of Baghdad", "La Grande Illusion", "My Darling Clementine", "King Kong" (By Cooper and Schoedsack!) Etc.

Favorite Music

Tangos by Julio De Caro, The complete works of Charlie Parker, J.S.Bach, Igor Stravinsky and Louis Armstrong.

Favorite Books

"Los Siete Locos" By Roberto Arlt, "Crime and Punishment", "The Legend of the Holy Drinker" By Roth, The complete works of Kafka.....