Clockwise Cat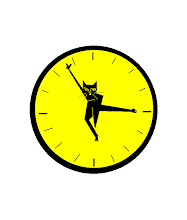 Contact me
On Blogger since December 2006
Profile views - 19069
My blogs
Blogs I follow
About me

Gender
Female
Industry

Publishing

Occupation

Writer, Rabble Rouser

Location

Atlanta,

Deep Scary South,

United States

Introduction
I am a progressive literary magazine. I accept submissions of poesie, polemics/satire, and appraisals (reviews). Clock and roll, sukaz.
Interests

Reading, writing, cats, volunteer work, hot baths, traveling, visiting museums, listening to music FUCK ME loud, eating artichokes, eating tomatoes, drinking wine, watching Lynch movies, bicycling, sneezing, snoring, sleeping, talking, reclusing, misanthropy, philanthropy, love, lust, pacifism, nihilism, absurdism, atheism, non-theism, mirrors, clocks, animals, stars, the moon, the sky, the sea, trees, dew, rain, snow, ice, interior decorating, pickles, olives, my boyfriend's cooking, my boyfriend's goatee, Daniel Craig's body, Johnny Depp's lips and acting, Ralph Fiennes eyes and acting, Harvey Keitel's butt in The Piano, bumper stickers, pissing off neo-cons with my brashly outspoken views, being damn proud to be childless, pissing off men (and women) who can't take an aggressive femme, ANYTHING PROGRESSIVE THAT ADVANCES THE CAUSE OF HUMANITY AND ANIMALS.

Favorite Movies

ALL David Lynch, ALL Stanley Kubrick, MOST Woody Allen, plus: IDIOCRACY, OFFICE SPACE, BORAT, THE ICE STORM, THE ENGLISH PATIENT, EXISTENZ, Volver, Austin Powers, Schindler's List, FIREWORKS, EAUX D'ARTIFICE, The Color Purple, Star Wars (the original trilogy), The Seventh Seal, Beetlejuice, Un Chien Andalou, Kids, Bully, Mr. Smith Goes to Washington, Oscar and Lucinda, Sunshine, Barton Fink, Like Water for Chocolate, Il Postino, Life is Beautiful, ALICE IN WONDERLAND, WIZARD OF OZ, The Wall, Streetcar Named Desire, Do the Right Thing, Europa Europa, Farenheit 9/11, Enron, Fast Food Nation, THE HURT LOCKER, THE VISITOR, MAN ON WIRE

Favorite Music

THE CURE, TOM WAITS, DEERHUNTER, MANU CHAO, CHOPIN, JOY DIVISION, HANK WILLIAMS, SR., Leonard Cohen, Johnny Cash, Steve Earle, Snowden, The Glove, The Coathangers, Gringo Starr, The Ravenoettes, Pink Floyd, Clinic, The Black Lips, Led Zeppelin, Jimi Hendrix, Janis Joplin, Pixies, Mogwai, Bauhaus, Interpol, Cab Calloway, Rush, Rage Against the Machine, The Church, Echo and the Bunnymen, Arcade Fire, The Decemberists, The Shins, Bright Eyes, Gang of Four, Sex Pistols, The Hives, The Strokes, The White Stripes, Lucinda Williams, Grandmaster Flash, Nick Cave, The Commodores, Lyle Lovette, Arctic Monkeys, Loretta Lynn, Patsy Cline, June Carter Cash, Roseanne Cash, Carl Perkins, Willie Nelson, U2, Emmylou Harris, The Clash, The Stooges, The Velvet Underground, Ministry, Metallica, The Smiths, The Cowboy Junkies, Profokiev, Holst, Brahms, The Fall, Jarabe de Palo, Bernard Lavilliers, Paco de Lucia, Public Enemy, Cramps, REM, The The, AC/DC, Journey, Van Halen, Sonic Youth, Bob Willis, Squirrel Nut Zippers, Deftones, Ravel, Bowie, The Libertines, The Byrds, Reverend Horton Heat, The Jesus and Mary Chain, Louis Armstrong, Jelly Roll Morton, Gipsy Kings, Cat Power, Billie Holliday, Ella Fitzgerald, Louis Jordan, Sarah Vaughn, Robert Johnson, Bessie Smith, Merle Haggard, Screamin' Jay Hawkins, The Chieftains, Tannahill Weavers, Duke Ellington, Rolling Stones, Film School, Black Flag, Dead Kennedys, Jello Biafra, The Cult, Drive-By Truckers, The Monkees, The Beatles, Santana, Blacktop Rockets, Bottle Rockets, Iggy Pop, Black Rebel Motorcycle Club, Sam Cooke, Revolting Cocks, Front 242, Ween, Mozart, Buddhist Chants, Motown, Salsa, Rumba, Celtic, Mariachi, Cuban Jazz, Flamenco, etc. etc

Favorite Books

DR. SEUSS, EDWARD GOREY, Maurice Sendak, SANDRA CISNEROS, JORGE LUIS BORGES, GABRIEL GARCIA MARQUEZ, Jennifer Lash, ARTHUR RIMBAUD, CHARLES BAUDELAIRE, Paul Verlaine, e.e. CUMMINGS, TOM ROBBINS, Allen Ginsberg, OCTAVIO PAZ, LAWRENCE FERLINGHETTI, Isabell Allende, ANDRE BRETON, TRISTAN TZARA, Luis Rodriguez, Franz Kafka, Jean Paul Sartre, Albert Camus, RAY BRADBURY, Isaac Asimov, VOLTAIRE, Kate Chopin, Paul Auster, RAY GONZALES, PABLO NERUDA, Edgar Allen Poe, Fernando Pessoa, William S. Burroughs, Shakespeare, Emily Dickinson, MARK TWAIN, Phillip K. Dick, Antler, Zora Neale Hurston, LANGSTON HUGHES, T.S. Eliot, Gwendolyn Brooks, Lucille Clifton, Toni Morrison, FLANNERY O'CONNOR, Anya Achtenburg, Basho, Rumi, Hafiz, THICH NAHT HANH, Thomas Merton, ALAN WATTS, Ben Ramke, Sylvia Plath, HP Lovecraft, Richard Wright, Thomas Pynchon, Joseph Heller, Jack Kerouac, KURT VONNEGUT, Luigi Pirandello, Eugene IONESCO, Andrei Codrescu, Victor Hugo, Anais Nin, George Orwell, Lois Lowry, Henry Miller, Arthur Miller, Robert Heinlen, Barbara Enreich, Molly Ivins, Jim Hightower, Naomi Wolf, RALPH NADER, HOWARD ZINN, NOAM CHOMSKY, Michael Parenti, etc. etc. etc. etc.
The wicked backspin caught you off guard. How will you play it off without losing your footing?
I wear the shoes of the footless and the smile of satan at his 45th surprise birthday party.