Yuliya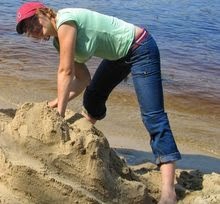 On Blogger since August 2008
Profile views - 811
My blogs
About me

Gender
Female
Occupation

Communications / New Media / Learning

Location

Kyiv,

Ukraine

Introduction
Спасибо, что зашли) я рада и благодарна гостям, с которыми могу вместе общаться, учиться и познавать - себя, людей, мир!
Interests

Art, dance, music, literature and poetry, sport, hitchhiking and living in the wild nature, alternative media for development, conversations, learning and development, art of hosting and facilitating... an many more

Favorite Movies

Besides documentaries I like provocative movies, historical, about love and relationship, about life, around questions that matter

Favorite Music

The music that touches the heart and mind, and sets oneself free, while walking on the road of life... folk, classic, jazz, improvization

Favorite Books

Poetry of Pablo Neruda, Garsia Lorca, Tonino Guerra, Yunna Morits, Lina Kostenko; tales of Janny Rodari, etc.
You've rented a sky-writer to propose to your significant other, but it's completely overcast. What will you do?
How do you overcome fear?