GertyMcDowell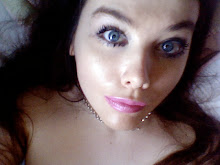 Contact me
On Blogger since July 2008
Profile views - 1695
My blogs
Blogs I follow
About me

Gender
Female
Industry

Arts

Occupation

POETESS

Location

Sound Beach,

New York,

United States

Introduction
I have an MA in English/Lit. I adore writing, the blood life, and am presently working on my poetry. I've written two novels and a novella, but have never attempted publishing them. Because they no longer feel honest to me. I should say. I've also been living with systemic lupus, with the diagnosis, since I was 19. When I turned 25, I was diagnosed with nephritis, a serious complication of lupus involving the kidneys. My kidneys have crescents and irreversible scarring. Yet, after chemo, prednisone, more chemo/immunotherapy CellCept...Myfortic (now) , I can say I am trying to keep myself stable. Needless to say, I do value life and beauty, which I define as the interconnectedness of nothing. Should you desire more, about me, message me.
Interests

I adore summoning, romancing my wit, reading, writing, and all things poetic. Right now I'm quite intrigued by Rilke, preferably his relationship with Lou Andreas Salome.

Favorite Movies

Vertigo, Suspiria, All About Eve, Zatoichi Monogatari (1962), Gosford Park, Waking Ned Divine, Bonjour Tristesse, Pan's Labyrinth, Whatever Happened to Baby Jane (?), The Innocents, All About Eve, Rififi, Never on Sunday (anything involved with Jules Dassin), The Cabinet of Dr. Caligari, and many many more...!

Favorite Music

Chopin, Liszt, Stravinsky, Dvorak, Radiohead, Bob Dylan, Mazzy Star, Coldplay, Offenbach (particularly the tales of Hoffman), Sonic Youth (particularly playing Dylan's I'm Not There), Neil Young, Joan Baez, Tim Buckley, Jeff Buckley, Pearl Jam, K'Naan, and many many more...!

Favorite Books

Ulysses, The Decay of Lying, The Continuing Silence of a Poet-AB YEHOSHUA- The Critic As Artist, The Picture of Dorian Gray, Dubliners, Gorgias, Phaedrus, Timaeus, William Trevor's collected short stories, The Collected Poetry of Theodore Roethke, the correspondence between Rilke and Lou Andreas Salome, A vision, The Odyssey, The Iliad, The Rape of the Lock, In Cold Blood, NIELS LHYNE, The Rose Window and other selections from New Verse, The Collected Poetry of Federico Garcia Lorca (as overseen by Christopher Maurer), De Profundis, Blood Wedding, La Casa De Bernarda Alba, Nightwood, The Flowers of Evil, Paris Spleen, Artificial Paradises, In Present Company (WS MERWIN), and many many more!