African girl, American world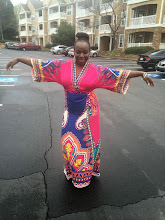 On Blogger since September 2004
Profile views - 7759
My blogs
Blogs I follow
About me

Gender
Female
Location

Atlanta,

GA

Introduction
My most important job is mothering my 2 sons. I am a joy bringer, a love giver and peace filled. Just living life to the fullest and learning lessons along the way.
Interests

Writing, reading, anything inspiring.

Favorite Movies

Make me think - that is all.

Favorite Music

All you gots to do is move me, stir something in my soul. If it ain't got substance it ain't for me.