TattooedSteve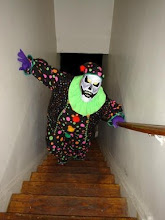 On Blogger since April 2011
Profile views - 1581
My blogs
About me

Gender
Male
Location

Keansburg,

NJ,

United States

Introduction
I've been in the entertainment business for over twenty years.
I've done movies, Television, a really lousy band or two, worked with a Side Show, worked as a costumer and prop builder, Managed built props and acted in one of the best Haunted Attractions in New Jersey, worked as a Retro F/X artist and was a live entertainer for ten years. And I am the first Professional Horror Clown to be registered with Clowns of the U.S. as well as a member of the International Association of Haunted Attractions.
So yeah I've had my moment in the sun for quite a while. Now I want to go back to doing something that I love besides writing my thoughts on movies I watch or things I grew up with. And that thing is promote. And every once in a while I get the call to do some prop building or a small role which I still enjoy.
There are so many great up and coming Filmmakers, F/X Artist, Prop Builders and just amazing Costumers that I want to help them reach their goal of hitting the big time.
On top of that there are more Horror Host than I could watch in three life times that really bring everything they have to the shows they produce.