Tiggie FOC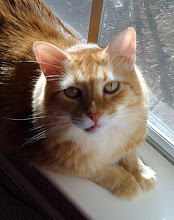 On Blogger since November 2007
Profile views - 1636
My blogs
Blogs I follow
About me

Gender
Male
Industry

Business Services

Occupation

Alpha Cat

Location

Kingwood,

Texas,

United States

Introduction
I'm a good old Texas orange cat,with green eyes and curly fur on my tummy. I was raised with twenty other cats. Bernie spent a year helping me find my true self: A Faithful Orange Cat
Interests

Bernie. Sleeping. Getting brushed. Catnip. Posing. Supervising people using the bathroom.

Favorite Movies

Whatever is on is good with me.

Favorite Music

The sound of canned cat food being tapped on the counter, the brush drawer being opened.
All of the phone numbers have fallen out of your address book. Whose number do you look for first and why?
Oh, big deal. I never need to call anyone, and my answering machine takes messages for me so I can call back later if I want to. Unless it is Mr.B calling. He is my top priority in life. He feeds and brushes me.