Sassine And Marwa El Nabbout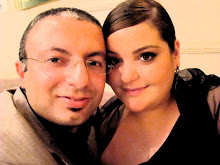 Contact me
On Blogger since May 2004
Profile views - 12631
My blogs
About me

Industry

Arts

Occupation

Medical Doctor And Chemical Engineer

Location

Victoria,

Australia

Introduction
We are a couple that mixes love and beauty, art and passion. We believe that with our talents, we can change the world and make everyone love life... You are so welcome to taste SAMA, the fruit of our union...
Interests

Medicine, Nature, beauty, Music, Painting, Crafting, Electronics, Computer Science, Internet, Universe, Designs, Philosophy, Theology, Ecology, Geology ...

Favorite Movies

Jesus Of Nazareth, Titanic, Gladiator, Hamlet, kingdom Of Heaven, The Day After Tomorrow, Vertical Limit, Braveheart...

Favorite Music

Beethoven, Mozart, Bach, Shubert, Rossini, Vivaldi, Tchaikovsky, Rimski Korsakov, Chopin, Dvorak, Piano Richard Clayderman, Piano Raul Di Blasio, Yanni, popular music, Indian Music, Chinese Music, Japanese Music, Spiritual music, Choral, Nature Sounds, Oud music, Nay music, Bozok music, Greek music, Turkish music, Romanian music, Russian music, Spanish music, Fairuz, Majida Al Roumi, Zaki Nassif, Wadih Safi, Nasri Chamseddine...

Favorite Books

The BIBLE, Gebran khalil Gebran, Mikhael Naaymeh, Maroun Abboud, Toufic Youssef Awwad, Amine Rihani, Amine Maalouf, Eliya Abou Madi, Les Fables de La Fontaine, Alexandre Dumas, Voltaire, Moliere, Gone With The Wind, History books, Geography books, Wildlife books, Flowers books ... and for sure MEDICINE BOOKS ...
You can whistle and steam can whistle, so why do you sing in the shower?
Just because I feel free to do so!