purple goddess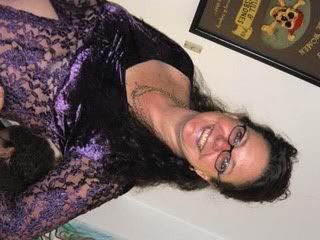 Contact me
On Blogger since August 2007
Profile views - 8573
My blogs
Blogs I follow
About me

Gender
FEMALE
Industry

Communications or Media

Occupation

Food Obsessive.

Location

Lae,

Morobe Province,

Papua New Guinea

Introduction
46 year old mother of 2 and step mother of 3. Mad "Auntie Purple" to about 47. Wild, untameable hair, purple glasses and an irreverent sense of humour. Everything else is subject to change without notice.
Interests

food.

Favorite Movies

Big Night, Tampopo, Babette's Feats, Like Water For Chocolate, Eat Drink Man Woman, The Cook the Thief His Wife & Her Lover

Favorite Music

Music to cook by

Favorite Books

"Cookery the Australian Way", "The Cook's Companion" by Stephanie Alexander, "Italy The Beautiful Cookbook" by Lorenza De'Medici, "Cooking Under The Influence"by Ben Canaider and Greg Duncan Powell (but only cos they use the words "bung" and "poncy" as recipe steps and have a chapter entitled "Dead Things On Toast"
You get to ride the big roller coaster three times in a row. What will keep your dad from taking a bite out of your candy apple?
ummm.. the fact he's dead, maybe???