angel, jr.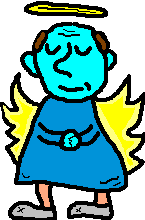 On Blogger since May 2004
Profile views - 8807
My blogs
Blogs I follow
You've written a hit musical! How will you avoid having fame go to your head?
I would turn back the hands of time and make sure I didn't write a musical--I don't like movies/plays where people sing the plot/conversation out.