The Readdicts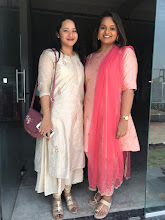 Contact me
On Blogger since August 2012
Profile views - 12086
My blogs
Blogs I follow
About me

Gender
Female
Industry

Student

Location

Pune,

Maharashtra,

India

Introduction
We're Janhvi and Sarika, best friends and book worms from Pune. To know more about us, check out our About and Contact page. For reviews and/ or book promotions, kindly check out our Review Policy.
Interests

Books, movies and music.

Favorite Movies

High School Musical, Harry Potter Series, Twilight Saga, Bollywood films.

Favorite Books

Harry Potter Series by JK Rowling, Twilight Saga by Stephanie Meyer, Lords Of The Underwolrd by Gena Showlater and many, many more.
Do you read?