Esme Raji Codell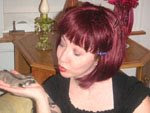 Contact me
On Blogger since March 2006
Profile views - 52516
My blogs
Blogs I follow
About me

Gender
Female
Location

Chicago,

Illinois,

United States

Introduction
Welcome to the Wonderful World of PlanetEsme! I'm a professional readiologist™ who thinks children's trade literature and read-aloud is our best hope for equalizing education in America. I hope this book-a-day plan will be a boon to anyone who would like to play a supporting character in a child's reading life story. This blog is a supporting page to sister site PlanetEsme.com, where you will find a silly amount of additional reviews, thematic lists, links, and much more...everything you need to become an expert in children's literature.
Favorite Movies

Auntie Mame, The Producers, I Heart Huckabees, The Prizewinner of Defiance Ohio, Crouching Tiger Hidden Dragon, Spongebob

Favorite Music

Beck, Disco, Gospel, Broadway

Favorite Books

Plenty!