karen!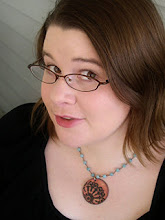 On Blogger since April 2005
Profile views - 8553
My blogs
About me

Gender
Female
Industry

Museums or Libraries

Occupation

Archivist

Location

Sleepy Hollow,

New York,

United States

Introduction
"She thrived immediately in the bleak, gray confines of the Hyde Park campus" (The Man on Whom Nothing was Lost, 275).
Interests

architecture, archives, book binding, bookcrossing, ceramics, coffee, the color orange, cycling, easter island, elvis, european board games, flying pigs, italy, knitting, perfume, pink flamingos, reading, saints, traveling

Favorite Movies

Dil Chahta Hai

Favorite Books

The Storyteller (vargas llosa), The Book of Laughter and Forgetting (kundera), Zahrah the Windseeker (okorafor-mbachu), All We Know of Love (schneider), The Handmaid's Tale (atwood), The God of Small Things (roy), Pride and Prejudice (austen), Thursday Next books (fforde)
What kind of tape is best for creating a sculpture?
duct