Christina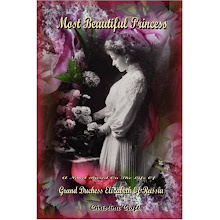 Contact me
On Blogger since November 2007
Profile views - 3685
My blogs
Blogs I follow
About me

Gender
Female
Industry

Arts

Location

Yorkshire,

United Kingdom

Links
Audio Clip
Interests

History, music, poetry, literature, animals (especially guinea pigs, donkeys, dogs and goats) beautiful places, the Romanovs, Queen Victoria's family, 19th Century monarchies, Shakespeare...anything that is interesting!!

Favorite Movies

Brother Sun and Sister Moon

Favorite Music

Beethoven, Strauss, lots of Opera, 80s music (O.M.D., Roxy Music, Men Without Hats, New Romantics) Neil Diamond, Abba, Judy Garland, Music Hall etc. etc. etc....

Favorite Books

A Lifelong Passion, Queen Victoria's letters (and all letters/diaries relating to that era), The poetry of Emily Bronte, Alice in Wonderland, Tales from Pooh Corner, Le Petit Prince....