shane oakley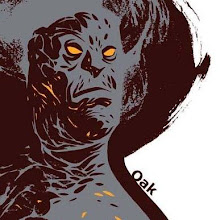 On Blogger since April 2007
Profile views - 6485
My blogs
About me

Gender
Male
Industry

Arts

Occupation

Illustrator, comic book artist, writer and obsessive compulsive

Location

Stoke Marshlands,

United Kingdom

Introduction
Worked on and off in the comics industry for over twenty years; writing and drawing for some of the BIG guys(DC and Dark Horse), and some of the microscopic(Caliber - no, i didn't make a penny either). Hate and love the biz with a passion. Occasionally stray over to music and film, but that can be just as frustrating. Still, helps keep me off the streets and selling dope to schoolkids...
Interests

Comics, Books, Films, Books about films, Lurid Pulps, Myth, Folklore, Ghostly Tales, Animation, Re-animation, Victoriana, Black and white movies late at night, Playing a guitar without a full set of strings.

Favorite Movies

Dr. Phibes, City of Lost Children, If, The Beyond, Santa Sangre, The Life Aquatic, Quatermass and the Pit, Dellamorte Dellamore, Barbarella, Our Man Flint, Street Trash, The Tenant, Bring Me the Head of Alfredo Garcia, The Mask of Satan, Captain Kronos, Dracula('58), Bride of Frankenstein, Videodrome, The Thing('51 and '82), It's a Wonderful Life, Amarcord, Dead of Night, Iron Giant, The Good The Bad and the Ugly, Suspiria, Phantasm, Groundhog Day, Angels With Dirty Faces, Yellow Submarine, I Drink Your Blood, zillions of others...

Favorite Music

Ennio Morricone, Add N To(X), Joy Division, Mike Patton, The Cramps, John Barry, Goblin, Laibach, Duke Ellington, The Kinks, Tom Waits...

Favorite Books

Clockwork Orange, The Wind in the Willows, New Frontier, The Spirit, Stickleback, Books of Blood, The League of Extraordinary Gentlemen, BPRD, Hellboy, The Goon, Fables, Criminal, Powers, The Black Forest, Jack Staff, Seaguy, Sandman, 100 Bullets, El Borbah, Shiver and Shake, The Demon(Kirby), Eerie, Creepy, By Bizarre Hands, Frankenstein, The Secret Files of the Diogenes Club, Nigel Kneale, Lovecraft, Rod Serling...