Ric Bang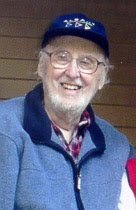 On Blogger since November 2010
Profile views - 1443
My blogs
About me

Industry

Arts

Occupation

Music critic

Location

Newberg,

Oregon,

United States

Introduction
Ric Bang graduated from Ohio State University with a degree in engineering. He spent his entire working career with North American Aviation -- later Rockwell International -- until he retired from his position as Director of Technical Operations in 1983. He and his wife moved that year to Newberg, Oregon, and bought property in an area that has become one of the state's prime vineyard locations. They have spent his post-career years living the good life off the land. During his school years, back in the day, music was an avocation: He played in his high school marching and concert bands, then the famous Ohio State University Marching Band and also in "territory" dance bands. He also maintained an interest in jazz and collected music throughout his life, and in 2005 decided to share his knowledge with a regular monthly jazz column published in The Davis Enterprise, in Davis, California.
Interests

Jazz, Sports, Reading, Sports, Working a small farm

Favorite Music

Woody Herman, Oscar Peterson, GRP Big Band, Bob Florence, Zoot Sims, Art Pepper, Frank Rosolino's "Trombone Heaven"